he catalan capital has almost 5km of sandy, wide beaches. With the services offered to those visiting the beach, along with virtues of the shallow mediterranean waters, Barcelona's beaches are an excellent option even for those with the highest standards.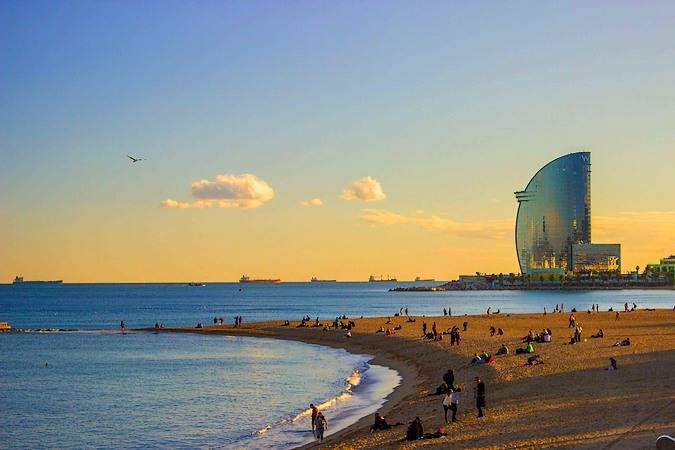 During summer the beaches are full of "chiringuito" bars perfect to eat and enjoy a cold drink. There are lifeguards during the day and public showers and toilets. Their proximity to the city centre offers easy access and the peace of mind of being near everything one might need. In Barcelona enjoying a family day at the beach is an easy experience, free of worries.
Sant Sebastia
Measuring 650m, it is one of the biggest beaches in Barcelona. Along with Barceloneta, it tends to be one of the most frequented ones. During summer, there is an open air cinema with free entrance.
Sant Miquel
One of the oldest beaches in the city, it is 420 metres. Located next to Plaza del Mar, it is a highly visited spot in Barcelona's coast. Its name comes from the church Sant Miquel del Port, which was built in 1755.
Barceloneta
The barceloneta beach is one of the most popular spots. Once you arrive, you will be met by fine, white sand and a great variety of seafood restaurants. The beach offers a wide space for relaxing and sunbathing, as well as volleyball courts and tennis tables. There are lifeguards on watch, so one can enjoy swimming with little ones without concerns. Its popularity among the youth has placed Barcelona as the second most mentioned beach on instagram.
Playa del Somorrostro
The sea at Somorrostro is very calm, with very little waves thanks to the groynes that protect it. Its calmness has made it very popular with families who wish to have a worry free swim north of the groyne "del Gas". When visiting this beach, you will find plenty of deckchairs and umbrellas to rent, as well as places to get changed and toilets. Also, it is located near many coffee houses and restaurants, and even night clubs.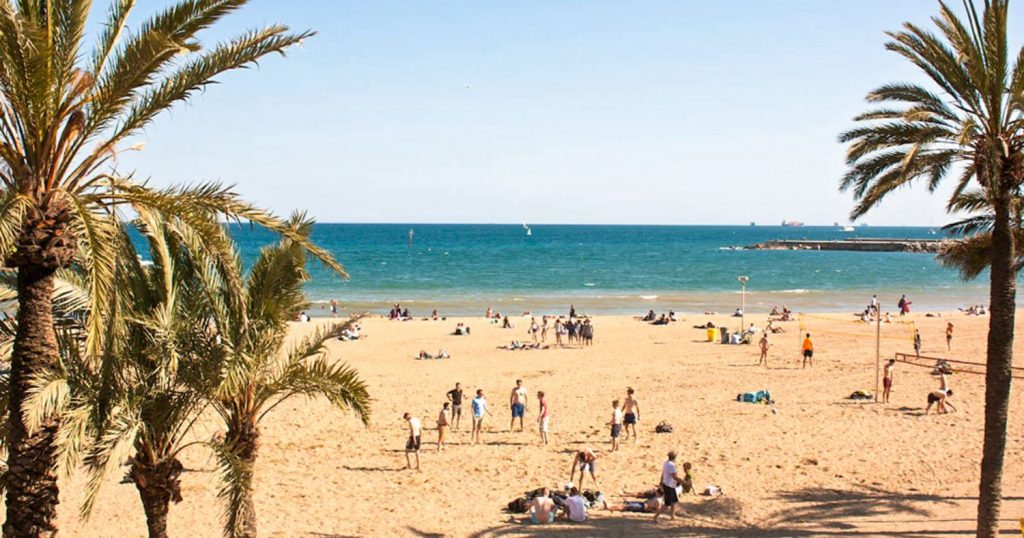 Nova Icaria
Along with Bogatell, it is the beach where on average users choose to stay the longest. Probably because it is considered one of the quietest in the city. This year it has been awarded the recognition of the Ecoplayas flag as evidence of its quality and services.
Bogatell
It is 700 meters long and is one of the beaches that acquired a new quality when Barcelona's seafront was restored during the 1990s. It has leisure equipment, such as two ping-pong tables, a soccer field in the middle of the beach and a volleyball area at the other end, touching the Mar Bella breakwater.
Mar bella
Mar Bella beach is one of the best in the city for young people, as it offers facilities and services for those looking to stay active. The most cosmopolitan sports fans will be able to enjoy the areas to play volleyball and tennis, as well as an area for skateboards and a basketball hoop, in the coastal area of ​​the Sant Martí district. If you are attracted to water sports, this beach is one of the best places to start practicing them. Here you can go on sailing trips or rent a kayak. The sports complex located next to the beach also has a gym and a running track.
Forum Bathing Area
There is no sand, but bathing is allowed in this area. Access is possible from paved surfaces through the use of stairs. It has a length of about 350 meters and you can practice sports. Of course, be careful, because there is a colony of hedgehogs, so it is recommended to bathe with suitable footwear to avoid possible punctures.